Bowing and Buckling Foundation Walls
When it comes to foundation repair work, Scarfone Construction has a guaranteed solution that will work for you.  Since 1958, we have repaired more bowed and buckled walls than any other waterproofing or foundation company in Windsor / Essex County.
What Causes Foundation Failure?
In Windsor and Essex County, bowed or buckled walls most often occur due to hydrostatic pressure being exerted on the foundation walls. In our wet climate, the soil and clay freezes, thaws, expands and contracts constantly pushing against the house. When the pressure exceeds the structural integrity of the foundation, the wall will fail. Vertical and horizontal cracks can appear, mortar joints will expand/break and the blocks themselves will exhibit bowing and shifting. If left untreated this can be devastating to the structure of your home resulting in costly repairs.  The sooner the foundation repair work begins, the better.  Don't wait until your walls are so bad, that they must be replaced.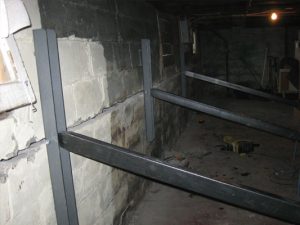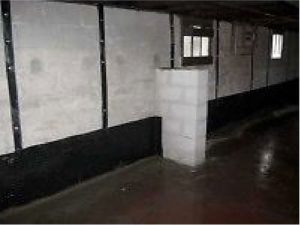 Severe Foundation Repair Work
Where wall is severely damaged we bring in our structural engineer to advise us on the most cost effective method and certify our work with his PE stamp. The structural engineer PE stamp certification adds value to the sale of your home.
Signs of Needed Foundation Repair Work
• Inward bowing or buckling of walls
• Diagonal cracking of concrete foundation walls
• Horizontal or stair-step cracking of foundation walls
• Walls sliding inward at bottom
• Walls learning in at top
• Poor Construction related issues
There are many ways to repair foundations suffering from bowing and buckling movement.
At Scarfone Construction, there are many actions we  can take to fix your buckled foundation depending on the severity of the problem:

Scarfone Wall Support Straps :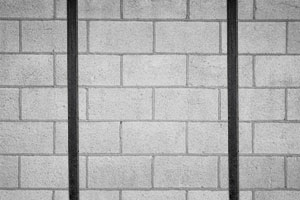 In co-operation with our structural engineer, we designed a high strength wall strap made from tempered steel and powder coated for a long life that can withstand the immense pressure exerted by the expansive soils surrounding your foundation. These are both bolted and glued to the blocks with a special bonding agent which in turn acts like a belt, holding the wall together.
Buttress Walls: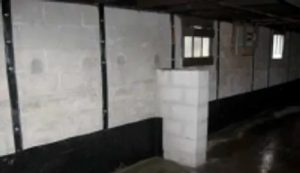 In many cases our engineer will recommend installing a buttress wall to brace the foundation and act as a support. These small block walls are tied in with cement and rebar to the buckled foundation and footings to help counter the pressure of the expansive soils and clay pushing against the foundation.
Core Filling: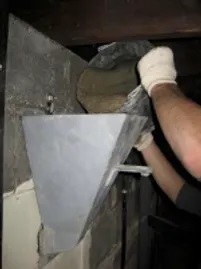 If the blocks themselves are deteriorated and weakened due to buckling it then becomes necessary to drill out some of the cells in the blocks and fill them with steel rebar and wet cement every 24 inches on center to restore strength and support to the wall. Core filling fills every joint, crack and gap in a masonry wall, making it much stronger.
Pushing the Wall Out: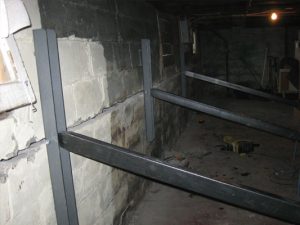 Sometimes the pressure exerted by the soil is so much that the only way to fix it is by digging out the exterior wall to be repaired and alleviate the pressure. Once the pressure is removed from the foundation we shore up the wall using our specially designed shoring jacks and carefully push the wall back into place. All damaged blocks and joints get repaired and we additionally perform an exterior basement repair to waterproof the newly straightened wall. The exterior trench gets back-filled with stone so that hydrostatic pressure doesn't have a chance to build up again. This step is usually combined with Scarfone wall support straps and core filling depending on the need or recommendation of our  engineer.
Rebuilding the Wall:
In the worse case scenario when the wall is damaged beyond repair, there is no other option but to rebuild the broken wall. This is the most serious and costly of foundation repair work. At this point there may be additional structural damage throughout the building that may need to be addressed. Our experts and engineer will advise you of the most cost effective way to fix any related problems. The exterior perimeter of the buckled wall will have to be dug out to remove the pressure being exerted on it, house jacks will be installed to support the joists and all blocks will be removed and replaced. An exterior wet basement repair is also done to the new foundation and trench is back filled with stone to eliminate pressure and to provide a drainage bed.
Service Area
Our foundation repair service area is primarily Windsor / Essex, including Amherstburg, LaSalle, Tecumseh, St. Clair Beach, Lakeshore, Leamington, and Kingsville.