SCARFONE CONSTRUCTION
Established in 1958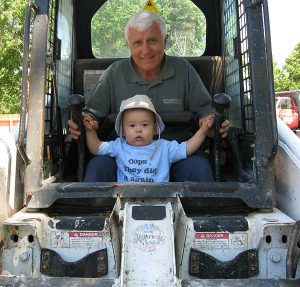 My father Antonio Scarfone emigrated from Italy in 1952 and brought his family over in 1954 to settle Windsor, Ontario.  Unable to find work because of a bad economy, he went into business in 1958 doing cement work. I, Santo, being the only son, started working with him from the start. He built a strong business and retired in 1968. At that time I was in law school and realized law was not for me. I took over the family business doing cement work, home improvements, as well as interior and exterior repairs to wet basements.
In the 1970's, I experimented with using drainage hose to drain basement blocks to the inside weeping tile. This method proved inadequate so by trial and error I developed and patented a drainage flashing system. In 1982, I received Canadian and US Patent # 4333281 for basement wall drainage molding. When Delta & Platon membranes came into use, we started using these membranes for inside drainage use as they were ideal for finished walls providing higher block protection than our drainage flashing. Our drainage flashing looked better on unfinished walls but membrane was the better choice for finished walls.
As owners of older homes are using home inspection services before selling, we are seeing an increase not only in wet basement repair but also in buckled wall repairs. In response to the high cost of buckled wall reinforcing straps: we developed our own version of wall reinforcing straps under the supervision of our structural engineer.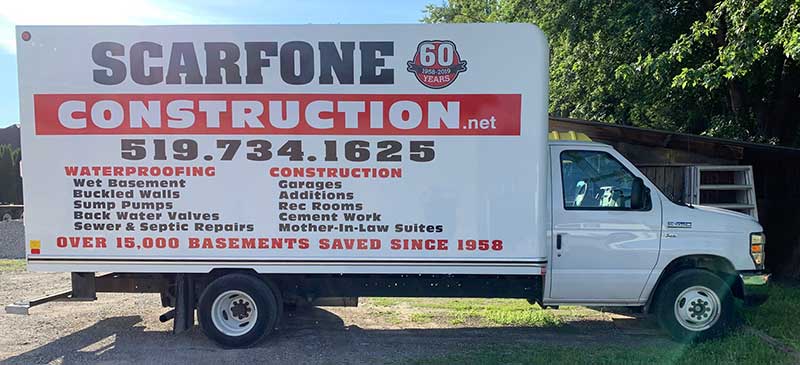 Complete waterproofing and construction services.
Today our business consists of 75% interior and exterior wet basement repair, and 25% construction work.
We are members of the BBB and LaSalle Business Association. We have developed a good reputation with thousands of our customers as well as Real Estate and home inspectors who often call us for our opinions.
Santo Scarfone
(519) 734-1625